Narrow Aisle Heavy Duty Forklifts
Exceptional Control Both Indoors And Outdoors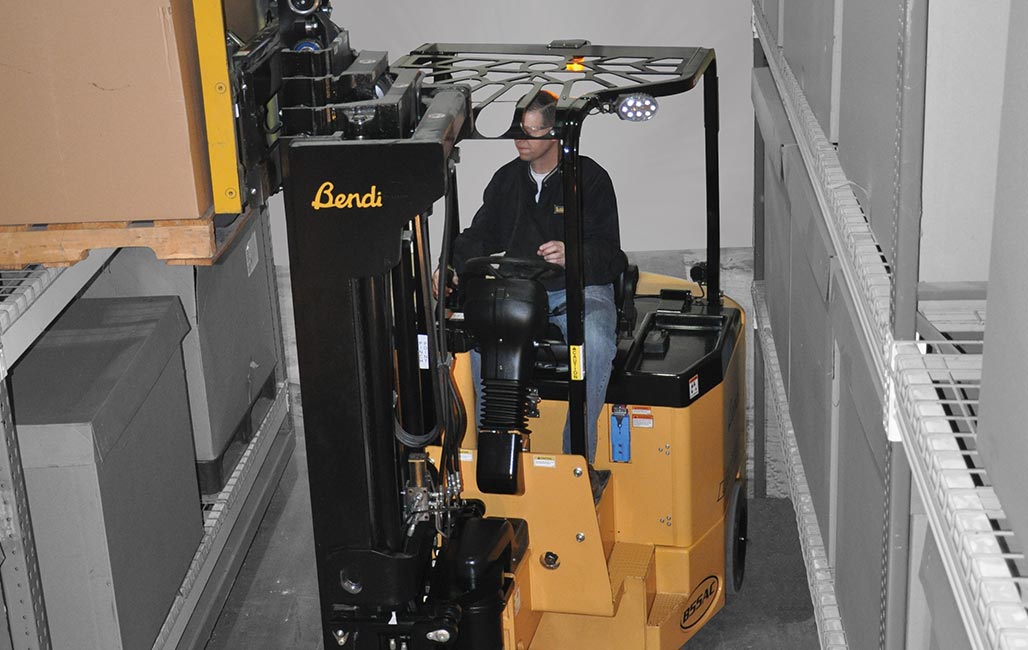 The Bendi very narrow aisle heavy lift forklift works in aisles as narrow as 2.13m. This narrow aisle forklift can also lift up to 9.14m. So, in addition to working inside in very narrow aisles, the Bendi 4-Wheel heavy-duty articulated truck also works outside loading and unloading trucks as well. Therefore, this forklift replaces the need for conventional counterbalance forklifts, reach trucks and very narrow aisle machines (VNA). With a Bendi Articulated Forklift from Bendi Australia, one truck does it all!
Equipped with the DuraSteer™ front wheel hydraulic steering, the Bendi Heavy-duty forklift provides exceptional control thus making load placement and retrieval second to none. Maximise your Materials Handling Equipment productivity with a Bendi heavy lift forklift.
For more information about this forklift please contact us via our contact page here. Make sure to follow us over on our social media pages; Facebook, Twitter and LinkedIn.
Narrow Aisle Heavy Duty Forklifts Features:
Patented rear wheel drive.
DuraSteer™ front wheel hydraulic steering.
2.5 tonne capacity.
9.14m lift capability.
Handle standard pallets in 2.13m width aisles.
Fantastic outside capability.
Ergonomic truck design for exceptional operator comfort and safety.
Integral sideshift.
Model: B55AC.
View Our Client Testimonials and Case Studies
Gain over 50% more space in your existing warehouse with a Bendi forklift.
"We were a little sceptical at first with the articulated driving characteristics of the Bendi but we found that the operators took to them in no time at all, and they really have performed well."
"We have been delighted with the overall performance and reliability of the machines, and with the highest levels of service we receive which means we have our Bendi forklifts available whenever we need them most."
If you would like to know more about the Bendi range of products and services, or you would like a quote, please call us on 1300 365 621 (Toll Free) or click here to contact us.