FWD Narrow Aisle Forklifts
Designed to Give Optimal Aisle Performance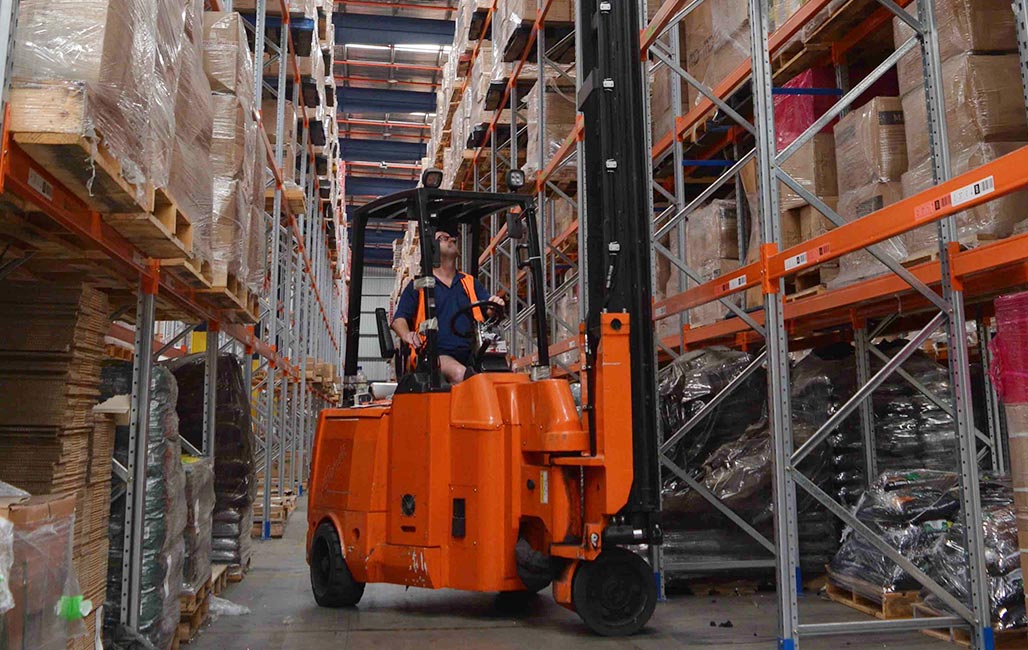 The innovative award winning Bendi 3-wheel very narrow aisle forklifts are capable of working in the smallest possible aisles. They manage to do this whilst retaining their unique ability to work outside. This makes them perfect for both indoor to outdoor operations.
The unique 3-wheel front wheel drive on these articulated forklifts offer a fantastic driving experience. The innovative design of the articulation system creates the best possible aisle performance from a forklift. With the very latest technologies utilised throughout the range, the three wheel Bendi Articulated forklifts offer massive performance and operational benefits over any traditional reach trucks, very narrow aisle (VNA) or counterbalance operations. A Bendi Articulated Forklift truck can do it all.
Introducing The New Powerhouse Of The 3-Wheel Narrow Aisle Forklifts – The Bendi B320
With a rated lift capacity of 2000kgs, and lift height of up to 10m, the B320 is a high-performance piece of materials handling equipment capable of working in aisles as small as 1.8m and with ample power for loading and unloading duties. With full AC control and motors, the new B320 FWD Narrow Aisle Forklifts offer increased operator efficiency through faster lift and lowering speeds. Make sure to follow us over on our social media pages to keep up to date with Bendi Australia. Visit Facebook, Twitter and LinkedIn.
FWD Narrow Aisle Forklifts Features:
1200kg to 2000kg lift capacities.
Up to 10m lift height.
1.8m aisle performance.
No guidance systems or expensive floors required.
Dual inside/outside capability.
Powerful AC drive.
Purpose built articulated mast.
The most robust articulation unit with lifetime guarantee.
Easy Battery Change capability.
Models: B315, B318, B320.
View Our Client Testimonials and Case Studies
Gain over 50% more space in your existing warehouse with a Bendi forklift.
"We were a little sceptical at first with the articulated driving characteristics of the Bendi but we found that the operators took to them in no time at all, and they really have performed well."
"We have been delighted with the overall performance and reliability of the machines, and with the highest levels of service we receive which means we have our Bendi forklifts available whenever we need them most."
If you would like to know more about the Bendi range of products and services, or you would like a quote, please call us on 1300 365 621 (Toll Free) or click here to contact us.